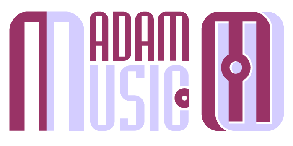 2020 Madam Music Mark II
In July 2020 Madam Music's creator Deborah Collier launched the animated TV Series project 'Adventures of Madam Music' through her company Portman Collier.
A series of the stories and celebrity interviews are currently being converted into script.
Read More at Portman Collier >>
2005 - 2007 Madam Music Portal, Animated Stories, Celebrities Interviews, Music Downloads, Record Label, T-Shirt Range
Madam Music was a record label with an online music venture called madammusic.com, founded by Deborah Colilier. As Director of Products, Online and Marketing, It also owned a satellite ethical and legal music Deborah gained experience in a number of areas:-
E-Business Initiatives - Developed a number of e-business initiatives including the resale of an ethical and legal viral music download sharing service through downloadandshare.com
Brand Development - Developed the madam music brand and madammusic.com music portal with advertising, clothing and music download revenue – accepting online and mobile payments (102,000 visitors month 4 using social media, PR and networking; Awarded 24/25 for Branding by New Media Age Magazine)
Press/PR and Content - Reviewed albums, wrote stories and interviewed music celebrities for the music portal – Coordinated small in-house marketing and admin team, as well as suppliers
Music Label - Founded and developed a record label promoting label artist:

Gained sponsorship from Mazda, London College of Fashion and smaller businesses
BBC Radio Coverage, Video aired at Fitness First, Tony & Guy, 400 UK Bars and Clubs
Album won a place on British Phonographic Industry (BPI)s British at Midem CD


Further to a key supplier default, and artist ill-health affecting publicity and promotion. Deborah closed the company, but still owns the label, recordings, with digital downloads which are available on all major music web sites such as iTunes.

Note: She has not actively promoted the GINNI album since 2007.