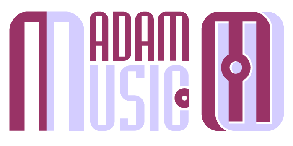 2021 Madam Music Mark II
Madam Music's creator Deborah Collier launched the animated TV Series project 'Adventures of Madam Music' through her company Portman Collier.
A series of comedic futuristic stories and music icon interviews are currently being converted into script.
Read More at Portman Collier >>
2005 - 2007 Madam Music Portal, Animated Stories, Celebrities Interviews, Music Downloads, Record Label, T-Shirt Range
Madam Music was a brand with an online music venture madammusic.com and a small record label.
It also owned a satellite ethical and legal music download and sharing site. Deborah gained experience in a number of areas:-
E-Business Initiatives - Developed a number of e-business initiatives including the resale of an ethical and legal viral music download sharing service through downloadandshare.com
Brand Development - Developed the madam music brand and madammusic.com music portal with advertising, clothing and music download revenue – accepting online and mobile payments (102,000 visitors month 4 using social media, PR and networking; Awarded 24/25 for Branding by New Media Age Magazine)
Press/PR and Content - Reviewed albums, wrote stories and interviewed music celebrities for the music portal – Coordinated small in-house marketing and admin team, as well as suppliers
Music Label - Founded and developed a record label promoting label artist:

Gained sponsorship from Mazda, London College of Fashion and smaller businesses
BBC Radio Coverage, Video aired at Fitness First, Tony & Guy, 400 UK Bars and Clubs
Album won a place on British Phonographic Industry (BPI)s British at Midem CD


Deborah chose to pause this self-funded venture in 2007, but still owns the brand, label and recordings, with digital downloads available on all major music web sites such as iTunes.